GLDM has shown increasing strength as a result of the escalating US-China trade dispute.
Spec positioning is neutral; ETF investor sentiment is fragile.
A bullish breakout pattern seems to have formed, boosting our constructive conviction.
Our GLDM price target is $13.45 per share by month-end.
Welcome to Orchids Gold Weekly report. We discuss gold prices through the lenses of the World Gold Shares SPDR Gold Minishares Trust ETF (GLDM) because we think that is the best pure-play ETF to assert exposure to spot gold prices.
GLDM is directly impacted by the moves in spot gold spot prices because the fund physically holds gold bars in a London vault and custodied by ICBC Standard Bank.
GLDM offers the lowest expense ratio of just 0.18% among its peers. Its older brother, the SPDR Gold Trust ETF (GLD), has an expensive ratio of 0.50%.
GLDM has strengthened noticeably in recent days, principally driven by the escalating US-China trade dispute. The positive impact from risk-off sentiment has more thanoffset than negative impact from the stronger dollar.
Although ETF investor sentiment is subdued, golds spec positioning suggests that the upside for gold is significant in case of a more pronounced positive swing in speculative sentiment.
The improvement in the technical picture is likely to attract momentum-based buyers, exacerbating the appreciation in GLDM.
We see GLDM retesting its year-to-date high of $13.45 per shareby the end of May.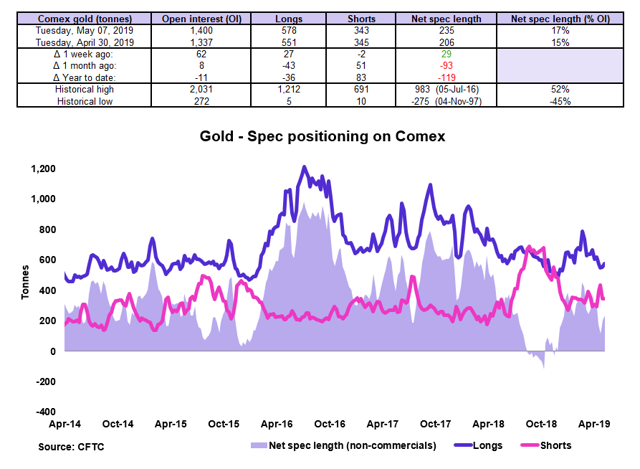 Speculators lifted slightly their net long exposure to Comex gold in the week to April 30, the latest CFTC statistics show.
Over April 30-May 7, the net spec length rose 29 tonnes from 206 tonnes (15% of OI) to 235 tonnes (17% of OI), driven mainly by fresh buying (27 tonnes) and reinforced marginally by short-covering (2 tonnes).
The current golds spec positioning is closely in line with its historical average – the net spec length has averaged 15% of open interest since January 1986.
But considering the increase in risk-off mood stemming from 1) geopolitical tensions in North Korea, Iran, and Venezuela, and much more importantly, 2) rising US-China trade tensions as US president Trump followed through with the threatened increase in tariffs on imported Chinese goods, the speculative community could turn more bullish on the bullion.
Since golds spec positioning is far from being stretched on the long side, the upside potential in gold prices is significant. However, what will matter is how the dollar behaves amid the US-China trade dispute. If the dollar strengthens as it did last year when the US-China trade dispute escalated, the speculative community is unlikely to become aggressively bullish on gold.
Implications for GLDM:Should risk-off mood continue on tense US-China trade relations and the dollar fail to show strength, speculators are likely to lift significantly their net long positions in Comex gold. This will produce an appreciation in spot gold prices, thereby lifting the value of GLDM.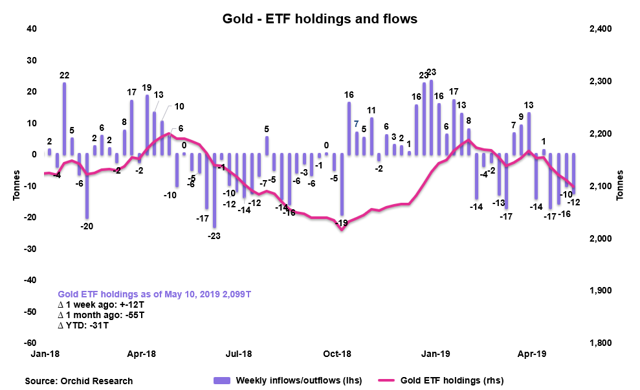 ETF investors were net sellers for a fourth week in a row last week, in the tune of 10 tonnes.
ETF investors sold another 12 tonnes of gold last week (May 3-10), lifting the month-on-month net outflow to 55 tonnes from 48 tonnes the prior week.
Last week, ETF outflows were concentrated in the SPDR GLD (8 tonnes) while its younger brother – GLDM – showed stable holdings.
Given the surge in risk-off sentiment, we would have expected net inflows into gold as investors build risk-unfriendly positions. But investors did not rush into gold; rather theypiled into US Treasuries – the 10year US yield dropped to 2.39% – its lowest since March.
This is an indication that ETF investor sentiment toward gold remains fragile although the bullish narrative (risk-off, political tensions, geopolitical uncertainty, etc.) is here.
Implications for GLDM:Negative gold ETF flows impact negatively the monetary demand for gold. As such, gold spot prices could fall, which in turn could undermine the value of GLDM.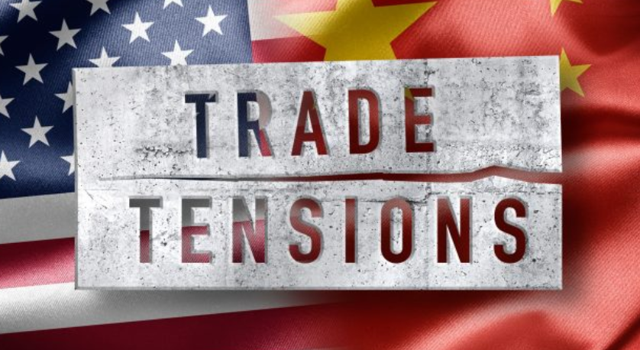 Wisconsin Institute for Public Policy and Service
Although US-China trade talks were constructive for most of 2019 and the market (including us) was confident that a US-China trade deal would be reached, US president Trump surprised once again by threatening China with new tariffs on Sunday May 5.
While the financial markets were turbulent last week (May 6-10), Trump followed through with his threat and hit China with an increase on tariffs from 10% to 25% on $200 billion worth of Chinese goods imported to the US, implanted last Friday (May 10).
The U.S. thought China had agreed to detail the laws it would change to implement the trade deal under negotiation, according to administration officials. But late last week, Beijing said it had no intention of doing so, triggering Mr. Trumps threat Sunday to escalate tariffs and bringing the dispute into the open. While U.S. negotiators viewed China as reneging, Beijing believed it was trying to renegotiate U.S. demands that impinged on Chinese sovereignty.
An escalation of the US-China trade dispute has contradictory effects on gold spot prices.
On the one hand, US-China trade tensions tend to benefit the dollar by weakening the yuan. In turn, a stronger dollar reduced the quantity of gold demanded in USD terms, thereby pushing gold spot prices lower.
On the other, US-China trade tensions tend to produce a de-rating in risk assets due to rising uncertainty about the consequences on global growth, which in turn elicits a surge in safe-haven demand, thereby benefiting gold spot prices.
In recent days, it seems that the positive impact from risk-off sentiment has more than counterbalanced the negative impact from a stronger dollar, resulting in increasing strength in spot gold prices and GLDM.

GLDM has started the week on a positive note, up a little bit more than 1%. From a technical view point, GLDM has clearly broken above its 20 DMA, which could reflect a positive swing in sentiment. Also, GLDM seems to have broken above its downtrend from its year-to-date high establish in February, which could suggest that a bullish breakout is under way.
Against this notable improvement in the technical picture, we believe that GLDM could retest its 2019 high of $13.45 per share before the end of the month.
Although ETF investor sentiment remains fragile, the escalating US-China trade dispute has propelled gold spot prices and GLDM higher. In turn, the technical picture has materially improved, boosting our bullish conviction in the near term. Golds spec positioning is neutral, thereby pointing to significant upside potential in case of a more pronounced positive swing in sentiment for the bullion.
We have a price target of $13.45 per share by month-end.
Disclosure:I/we have no positions in any stocks mentioned, and no plans to initiate any positions within the next 72 hours.I wrote this article myself, and it expresses my own opinions. I am not receiving compensation for it (other than from Seeking Alpha). I have no business relationship with any company whose stock is mentioned in this article.
Additional disclosure:Our research has not been prepared in accordance with the legal requirements designed to promote the independence of investment research. Therefore, this material cannot be considered as investment research, a research recommendation, nor a personal recommendation or advice, for regulatory purposes.