Why do some real estate investors make millions so easily…while youtry everything just to get a start in this business?
Ask any experienced investor and they will tell you straight up that the big problem in getting started…doing your first deal.
Once you do your first successful deal, youll never stop.
I remembermy first check. It was for $5,500 I walked in and handed it to my wife. She took one look at it and knewin an instant that despite the turmoil happening in our lives, everything was gonna be alright.
You should have seen her eyes a few months later when I brought home acheck for $41,000. I casually handed it to her and asked if she could deposit it in the bank.
I remember those first few checks like they were yesterday. The excitement. The relief that I could pay my bills. The comfort that we would not have to sacrifice anymore. The absolute confidence I could do this for the rest of my life.
You can experience theexact same feeling. It doesnt matter if youre brand new to this business. It doesnt matter if youve purchased dozens of other books, courses, or seminars with zero results to show for your past efforts. Ive been there. Ive purchased real estate courses that simply became dust collectors on my shelf. I didnt even open a few of them.
Youreyes light upwith that first check. Youfeel your heart jump a beatonce you realize that no matter what life throws at you, you control your financial destiny from this day forward.
Im not a stranger to success. I received my MBA from Wharton Business School. Ive worked great jobs with exciting incomes for companies like IBM, Xeroxand Johnsn & Johnson. They paid me very well, but worked me like a dog.. I also owned my own highly successful aviation business that created a lifestyle my family and I enjoyed, tremendously.
In fact, my business was making an obscene amount of cash until 9/11.I still have a hard time believing that in one day, your entire life can change
All My Income Was Wiped Out Instantly on 9/11…
Like every American, September 11, 2001 is a day to be remember for the rest of your life. I too wasshocked and horrifiedwhen I turned on the television that morning at8:57 AM and watched the tragedy unfold before my eyes.
In a daze, I also sat there Bonded to my seat, watching the reports, wondering what else would unfold that day. Im so thankful my family was at home with me. We prayed for all those who lost their lives and the lives of their loved ones.. I called my office to make sure my employees were safe, then returned to the living room to watch and pray. Not giving a second thought about the future of my own business, until much later that day.
Late in the afternoon the calls began to pour in, my Mom and Dad and then my sister. .All asking me how this would affect my business. I had to stop and think and then tell them the true, raw answer:Its over., I said.
Then it fully hit me like a ton of bricks, My income was gone the moment the tragedy occurred.
I was the 100% owner of Tradewinds International, and in partnership with signature Flight Support, we were the only operators of the only private jet facility at Washington, DCs Reagan National Airport. On that day, and ever since, The FAA and Secret Service have placed restrictions on private jets entering the airspace close to the Whitehouse.Shutting down my entire business – forever.Yes, a $24 Million Dollar a Year Operation.One that had the honor of being awarded the title of The 1 Aviation Facility In the United States for seven years in a row.Anoperation whose clients included: Bill Cosby, Oprah Winfrey, Bill Gates, Warren Buffet, John Travolta and numerous other celebrities and dignitaries was destroyed.Not as a result of anything we had done, but simply because the events of 9/11 called for a new set of rules.Rules which created instant winners and losers in a single instant.
Trust me, I fought hard to reopen my business. I used all my savings and investments to fund the business with no income coming in. The last thing I wanted to do was let all my employees down. And during those early weeks and months, everyone continued to tell me: Keep fighting Sherman, sooner or later theyve got to let you re-open.Your facility is too important to members of Congress, and your track record of excellence too strong It was no use. The business, my income, and eventually all of my lifes savings and kids college education funds were gone.
Eventually, I had to face reality.My family had to be taken care of. I owed a lot of people a lot of money, but despite the grim reality, I knew that after having tasted freedom from Corporate America, there was no way I could ever go back toslaving away, and the thought of starting over as a cog in a big organization with nothing to show for my years as a business owner was too much to even think about.
In an instant, I knew deep in my heart that real estate was my only hope. I took down those old courses from off the shelf. I attended a real estate investor seminar.
Something was different I came ready this time, and within the next month, I discovered numerousquick-cashandno money downstrategies to put large chunks of cash in my pocket and in my bank account.
Knowing from all of those MBA classes at Wharton, there was no question in my mind that real estate is the absolute best long-term investment, beating stocks and mutual funds hands down. Nothing else comes close to building your wealth. But wealth creation wasnt my first goal. If you dontpay the bills each and everymonth, there wont be any opportunity for the creation of long-term wealth.
My earliest mentor, Jim Rouse, told me once ,Youll never learn real estate sitting in a classroom, You learn this business by doing it!
This is where many real estate coursesfail you. They teach a large amount of useful information, but they never show youexactly what to doeach day.
This simply produces Information Overload. Your head is stuffed with facts and figures. But in fairness to you, there is no possible way you can decide how to put them into use in your life, if youve never run a business, or investing in real estate.
Because of my experience running a highly successful business, I could clearly see why so many new investors get that Deer-in-the-headlights Syndrome.
Instead of taking action, you stand there staring, wondering, working yourself into a nightmarish scenario where instead of winning, your thoughts begin to drift into a state of what ifs, paralyzing you with fear and keeping you from moving forward. Then instead of making money, you look to another course, another system, another product. You attend another bootcamp. You keep trying to get a little more information before you get started. Some gurus even encourage this, because, honestly, it lines their pocketbooks.
Its Garbage! Real estate investing isnt about filling your head with every fact and figure. Its about knowing enough to get going, thentaking some actionToday! Then another small step – Tomorrow, and the next day, and the next.Everyday taking The Right Small Step that ultimately leads to getting the deal done. Success in real estate is no different than success in any other business (except it is probably more lucrative) in that its really all about having a great idea and taking one small step each day towards the realization of that idea. Thats what success is really all about.Get the deal done
And once you understand this insiders secret it doesnt take very long, at all!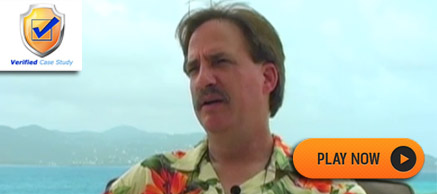 Real Estate is the Only Business That Gives You Both Money…And the Time to Enjoy It…
I made fantastic money way back when I was working for others. The problem was I never had an ounce of time. My job consumed me. The stress and work schedule slowly ate away at me. my first marriage ended in disaster.
Real estate isnt just about the money. Its about what a successful real estate investing business can provide for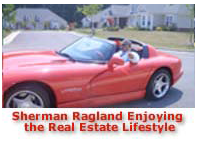 Get the cash to buy that beach house youve always wanted…But ALSOhave the time to enjoy it.
Take monthlong vacations to the Caribbean or Europe. Travel First Class to those locations youve always wanted to see and stay at the Ritz Carlton.
Or maybe just be in a position to spend time at home with your children, every day. Helpingthem become the best that they can be. Before my son went to Kindergarten, I spent every morningwatching educational programs with him till 10 AM, and sometimes Noon. Now that hes in school, I love being able to take him to school and then pick him up – right in the middle of most peoples workdays, then head to Subway® to get his favorite sandwich and listen to his stories about what happened during his day priceless, no its not just about money
On 9/11 I lost a business, but truthyfully, I gained my life. I wouldnt give up that time with my son for anything! Take my business. Take my income. Dont touch my family.Thats where the real value in life is.
What would a successful real estate investor income do for you?What would you do if you had both all the money you desire, and thetime to enjoy it? Do you know what is most the important thing in your life?
This Business Has Given Me Money…Time…and Recognition
In 2002, one year after I became a full-time real estate investor, I received the Blue Vase award.It is like being named: Investor of the Year at the CRE-National Real Estate Investors Conference in Atlanta, GA.
Earlier that same year, I became the leader of what has become the largest real estate investors club in the Greater Washington, DC. area (DC-REIA) with over 4,000 members. We often have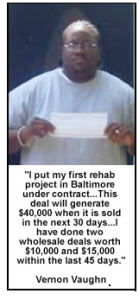 In fact, if youre ever in the Washington D.C. or Central Maryland area, pleasefeel free to come by. Our meetings are the 2nd Saturday of every month at 9:30 AM till 1 PM. We are all such big believers in the ability of real estate to change your life, that we make our meetings fully open to all who are seeking a better life and keep our meetings FREE.They take place at Florian Hall in Bowie, Maryland.PleaseClick here for directions…
If youre not in the area, please listen to my weekly podcast: Real Investors Talk Radio I bring in the top experts such as Donald Trumps Mentor:George Ross, Carlton Sheets, and Ron Lerand…then I grill them aboutwhatreally worksin real estate.Seriously.I get them to tell stories about things like How They Overcame Fear To Get Past Their Very First Deal, or what is like to at one point have nothing, and today be multimillionaires.
Investors Business Daily, Black Enterprise, FORTUNE, Mentors and other leading magazines have featured my story and my real estate investment strategies, that really work. TheWharton School of Businessof the University of Pennsylvania, and George Mason University frequently invite me as a guest lecturer.
Jack B. Johnson, the current County Executive for Prince Georges City Government recently sent us a ngratulating us on the opening of our real estate investor academy.Click here to see a copy of this letter…
Real estate has allowed me to be featured in the et my heroes…become a celebrity in myhometown …and across thecountry.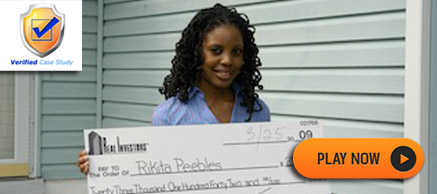 I know youll love this business. It has advantages that no other business can touch. Here are 7 reasons why this is absolutely the most exciting businessthere is.
You can do as little or as much as you want. It only takes30 40minutes a day for a beginnerto profit from real estate, seriously.I know no one may have ever told you this, but it is not about knowing more and more, it is about a simple plan that you can really put into action. You can do this part-time while you continue at your job. For example, I have 3 students who are full-time, dedicated, police officers. They love their jobs. They do real estate part-time and earn way more in this business than their police work.Two just recently made $515,000 by taking what I taught them about single-family home investing, and applying it to their very first commercial property deal.One they did, nothing down, by the way.I asked them if they were leaving the police force this year and they flat out told me no- they really love what they do, but also sleep better at night knowing they have money in the bank from their real estate deals.
If youre a real go-getter, you can do what they did, but turn your investing into a full-time business. Its up to you. Go part-time andearn way more than most full-time jobs. Or go full-time once you get the hang of it…and set your own paycheck.
Lift a hammer? I dont even cut my own grass.Trust me, Im nobodies handy man. . I dont do
toilets. When a house needs to be rehabbed, you run it like a business, and you hire this out to qualified contractors. If you dont like getting in your car looking for houses to buy, you hire birddogs to find the homes you want. If you hate negotiating, you hand this off to someone else. You only do the parts of this business you love. Let others do all the hard work.
My wife probably wouldnt want me telling you this…Im so lazy at times I even outsource the job of finding the houses and negotiating on them. On a recent house where I made$125,000 personally…I only put in10 hourstotal. Everything else was outsourced and handled by others.
Dont t know about you, but I still cant buy a loaf of bread at the local Safewaywith paper profits. If you dont put cold hard cash in the bank this month from your deals, you wont be able to pay your other bills either. Real estate allows you toearn profits both long-term and short-term, create wealth and generate quick cash if you know the secret of how.
You can haveyour first check in handwithin just a few days of starting this business. It really does notmatter if you have bad credit trust me, and you dont have to go into debt, either. And you dont have to borrow from friends or relatives to get started.
Once youve done your first deal using this system, you never want to stop.Its too much funto make money this easily. Do more deals. Turn over some for quick profits. Hold onto others for long-term wealth, while someone else makes you rich.
Its your choice. Keep some of thebest properties for yourself. Put renters in them. Let them pay down your mortgage while the house appreciates in value. You can get into a home for little or no money…and build up $100,000, $200,000, or even more in equity over the years.Ill even show you a local government program where the city or state will wire the money into your bank account, regardless of what the tenant does or doesnt do.
Truthfully, dealing with tenants can be a royal pain. Thats why I outsource this also. I tried being a landlord. It sucked…until I discovered how to find the secret to having great local rental management companies calling youand for as little as $50 a month doing all the dirty work, and wiring our money into your bank account, even while youre sipping tropical drinks from the back of a cruise ship.
Find a successful model and duplicate the system. Dont re-invent the wheel. Let me show you how to find a highly successful mentor who has already discovered all the secrets to making serious money in this business, while sidestepping all the pitfalls. Use aproven step-by-step systemfor finding houses, making offers, taking control of the property, and selling it for cash.
Its similar to owning your own franchise…without paying a huge upfront fee or long-term royalties. You know exactly what to do every step along the way. No guessing. No confusion. Just follow the recipe that works for me and thousands of people just like you.
Start with your first single-family house. Then do your second deal. Do your third. You use the exact same system for every home you purchase. Every house gets faster and easier to get done, because the system stays the same.Do as many deals as you wantusing the strategy you discovered on day one.
You may decide you want to expand into apartment buildings, hotels, or even skyscrapers. Thats fine. But, lets start with your first single family home. Trust me, I know , its the same system for these big big deals. They just have a few more moving pieces and require that you already have a good team of people around you, but the only limits on your future in this business are your own desires and motivation, and of course, getting past your very first deal.Once you actually go in motion, its a whole lot easier to stay in motion and get even more done. .
I invest in and aroundWashington, DC , and Central Maryland and select areas in the Caribbean. You may live in New York City or a little town in Arkansas. It doesnt matter. The system will work for you. Understand this, Maryland has some of thetoughest anti-investor lawsin the country. Quite frankly, there are strategies and techniques represented in some late night real estate infomercial courses that will land you a 3 year stint in jail here in Maryland.
This system isnt based on fooling anyone. ItsNOTabout skirting the law or playing legal mumbo-jumbo. Its100% ethicalin every step of the investment process. I advise all my students to always act with the highest integrity, in fact, I always use the Washington Post test, which is what do I tell my six year old son about the picture of dad, when he sees it in the METRO section of the Washington Post.And I alsoalways advise my students to consult a lawyer with any legal question they may have.Im being not only ethical, but highly pragmatic – they wont let you touch a dime of your own money, sitting in a jail cell.
With This System… You Can Get Your First Deal Done in 21 Days or Less
Ive studied with and interviewed most of the top real estate gurus. They have great information.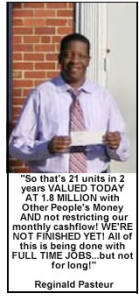 They do hundreds of deals and make millionaires in this business. If you put their information to work for you, you can become a success in real estate.
But there isone major problem. It is a problem with every single real estate investment course I have ever seen – They provide you with too much information! So much information, you get bogged down with Information Paralysis of Analysis. You come away from their bootcamps and training sessions knowingall these facts and figures. But you reallydont have a clue on what to do next, orhow to get started on Day One.
This course is different. You will receive astep-by-step system to follow every day for the next twenty one days. On day one, you do this. On day two, you do this. On day three, you do this. You have my guidance and my proven system to guide you along with every single one of your daily actions.
Within 21 Days, you have your first deal done. Some students get theirfirst check in as little as 10-15days.Could you use a check for $2,000, $3,000, or $5,000 in the next 15 days?
The best part is itonly takes 30 – 40 minutes a day.
Why 21 days? Its simple.Anything done for 21 days becomes a habit. After 21 days of step-by-step action (not just instruction), making money in real estate may become a lifelong habit for you.
I promise, walk with me, and your life will be changed forever over the next 21 days…
You doyour first profitable dealduring the next 21 days with this proven step-by-step system.
Making money in real estate wont just be a dream or a hobby. It will be a habit. Deals will be attracted to you, because you know what you are doing learning it by doing it.
What is the number one difficulty that holds investors back from getting started?
Its fear of the unknown…and quite honestly, fear of talking to sellers over the phone or face-to-face.
That fear of the unknown will disappear when youre given exactly what to do each day.Nothing is left to chance. Do A, B, and then C during the next 32 minutes. Heres who to contact. Heres how to contact them. Heres what to say next.
The second major fear is dealing with sellers. Most courses tell you to call sellers on the phone or meet them face-to-face. Thats intimidating. And many people never get started because of that.
During your first 7 days in this business,you will ONLY use a real estate agent. WHY?? Three reasons: 1 Youre Learning Day One How to Leverage Your Time Through OPM 2 They Know How To Prospect, Find and Talk To Motivated Sellers, While Youre still learning the business; 3 They Dont Get Paid Unless You Do Too!By Showing You My Secrets for Finding a good, investor-friendly, Realtor® you will be up and running within 72 hours.These investor-friendly Realtors® will bring deals to you. Seriously, they come to you, then theypresent your offers to the seller. They will do the negotiating for you.
You will never get on the phone or meet the seller in person to set up these deals. This first 7 day period is the Phase One marketing period. You discover the real truth about how to buy houses at a discount…leveraging the time and experience of a others. My system shows you how to build your team, WHILE youre making money!
You Can Earn Money Without YOU EVER Contacting a Single Seller During Phase One!
of the houses you want to invest in are on the Multiple Listing Service (MLS). Only agents who are a member of the Board of Realtors® have access to this.Many of these agents refuse to work with newbie investors.Two reasons:1 The newbies say (and do) the wrong things and tick them off, 2 They want to keep the good deals for themselves.Dont worry, cause Ill tell you exactly what to day to make the good, investor-friendly, Realtors® calling you, and I also give you a quick 3 point plan to avoid the bad agents.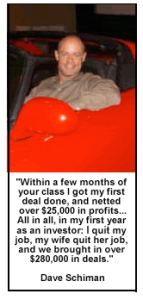 You use the precise words I tell you to use when youcontact an agent to look for your properties. When they bring back the potential properties youre interested in, you usemy own personal inspection and offer worksheets. After you fill in the worksheet, it will show you exactly how much to offer for the property.
You phone in or fax the offer to the real estate agent. They present it to the seller. The agent comes back to you with the sellers counter offer. You take a look at your worksheets and send in your second offer if theyre in the right ballpark.
Once you come to an agreed price, the agent writes up all the paperwork on their contracts. You turn around and sell the deal to another investor, who reimburses you for any minor costs you may have incurred and paying you a substantial profit.This is called wholesaling. Its one of the 10 proven ways to make money in real estate. Its also the easiest way for a new investor to make their first check without rehabbing and without contacting sellers directly. Granted you will probably only make $5,000 to $35,000 doing these simple deals, but for the amount of time you actually have to devote to managing your team and picking up wholesaling fees is really hard to beat.
If youve been doing your 30 40minutes of action every day, you already have a list of clients lined up. Theyre calling you every day, just chomping at the bit to take deals off your hands, in exchange for a handsome profit with no risk on your part.
Youve Earned Your First Check in Just a Few Days.
Theres one more step Id like to mention. The other real estate gurus didnt want me to let this secret out. It is essential for running your businesslegally and ethicallywith everyone involved.
The Board of Realtors have a clause in their contract that says you cannot assign the deal to someone else. On day three of the program you find out how to easily set-up basic asset protection sequences, such as a Limited Liability Company (LLC)for very low cost. Here in Maryland its only $150.00, (which you recover when you wholesale) but each state is different.
You use your LLC to do the deal. You make the offer and fill in the contract for the LLC. When you turn the deal over to another investor, you assign them your interest in the LLC. The paperwork is extremely simple, and I supply you withseveral examples of exactly how to fill it all out.
It really is that easy. You have a real estate agent find the properties. You use the exclusive worksheets to figure pricing. You make your offers through the agent. You do the deal. You assign the deal to another investor you found on Day Two.You earn your first check today…and a second larger one at closing.
You know exactly how to do all this in step-by-step detail during the first 7 days.
Phase Two Shows You How to Expand Your Marketing For Additional Deals and Profits
You earned your first check during the first 7 days of phase one. As you start phase two, you expand your marketing for day 8 through 21. You receive my complete system for finding houses fast in theprime neighborhoodsof your area, and even more important, the quick and easy steps to set up your farm system to have other (even newer) investors bring potential deals to you .
You discover how to pick the right neighborhoods. Find out how toeliminate the time wastersand time kickers. You only deal with sellers who are ready to get down to business and make highly lucrative transactions that benefit you. When you visit their property, you know exactly what youre looking for and what everything will cost. You present your winning offer.
You become the DEALMAKER! On your first few deals, you make money without completely understanding what youre doing.
Let me repeat that. You dont have to understand everything to make money in this business. I give you all the information and all the tools you need. Youre the one who supplies the 30 minutes of effort daily.
You never learn real estate sitting in a classroom. You become the real estate deal maker by doing what youre told each day on that Days CD.
Youve already made money before you even start phase two. Now that youre in phase two,you take the profits to another level. The real estate agent continues to provide you with leads and deals. You generate as many additional deals as you want during Day 9 through 21.
Every deal gives you two checks. You earn the first check within days…Ive had a check in hand within 24 hours before. The second, larger check comes at closing.
You have a steady stream of leads coming in. You also have a list buyers ready and willing to pay you handsomely as each new deal comes through your hands. Last month you were lower on the food chain than bubble gum stuck on the bottom of a shoe. Now youre the MAN…Or the WOMAN…The Deal Maker…The Superstar. Other investors desperately want your secrets…and just to get next to you.
Its the dream business. You earn money…time…and recognition.
Launch Your Real Estate Investing Career In The Next 8 Days
It only takes 7 days to go through phase one of the plan. The real estate agent is bringing in your leads. Youre using the proven worksheets to figure out and make your offers. Youve added several buyers to your list ready to hand you a check as soon as the first deal is done. Itsjust over a week till the first dealis done…if youve been following the 30 minute a day plan.
Heres just a taste of the information youll know at the end of phase one:
Discover the 1 success secret that separates millionaire real estate investors from the average Joe with five bucks to their name.
How anyone can turn real estate investing into a profitable habit and a consistent income inonly 21 days.
Why real success cant just be measured by your income. Its based on your quality of life.Take an 8 week vacationand come back with more money than when you left!
Why many real estate gurus are bankrupt, in jail, or hiding from the IRS. Always act with integrity and treat everyone you do business with eithically.
How to apply the Mastermind Principle to your real estate investing, and where to go for help whenever you need it…this one may surprise you!
How to buy a $90,000 house for $24,000 in a good neighborhood.
How I earnedover $120,000 in cash my first yearin real estate investing. This isnt counting any equity or unfinished deals…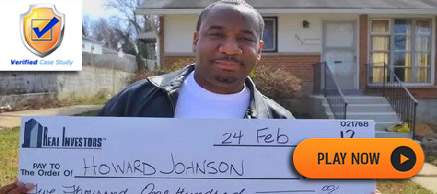 . It only requires a few hours of your time per deal IF you know what youre doing.
Dont have time to do any of it yourself? Find out how to
How to become a millionaire using the old fashioned buy-and-hold cluding the disadvantages of this method (no one ever told you these secrets before).
Why its vital you understand the buy-and-hold strategy…even if you never plan to use it. Its the basis for everything else that happens in this business.
in any state using government recommended tax lien certificates.
How to buy ugly houses in great neighborhoods. Its easy when you know who to cont