Welcome to FSI: Fraud Scene Investigator, an online interactive investor education program that teaches and empowers students how to detect and stop a million-dollar investment fraud and put the mysterious con man, Mr. X, behind bars. Through this free resource, students will learn how to research companies and understand the warning signs of fraudulent investment pitches.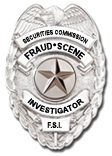 NASAA is pleased to offer a guide to provide additional resources for teachers, including pre- and post-program student assessment surveys, definitions of investment terms, quizzes, and additional materials to support class discussions on how to research a company, what to look for in a prospectus, and how to read a balance sheet.  Download theFSI Guide for Teachers.
NASAAs partner in youth investor education, the Newspaper Association of America Foundation, has compiled a great list of resources, including the new FSI board game. Check it outhere.
Teachers: Let us know what you think about the FSI Program and how we can make it even better. Complete theonline feedback form.

750 First Street NE, Suite 1140, Washington, DC 20002